No, I'm not ready. Before the break, my boss called me to tell me she had to change one of my classes because she was afraid it wasn't going to make. Turns out she was right: the class she switched me to had eight people in it after two days, and it's currently full. Meanwhile, one of my other classes still has fewer than ten people so I feel like I may get another surprise switch tomorrow. It's cool, though. I am prepped for the other possibility. It's just a matter of getting everything in the LMS before classes start. (Did I mention they start Wednesday?)
I am going to force all of my students to read for fun and then blog about it. That is the assignment I'm most nervous about. Oh, that and doing the fiction workshop in my creative writing class. We'll see how it all goes.
I did take a brief break from course prep to go see Fences, which was pretty amazing.
I am still processing how I feel about it beyond that. Because there was just SO MUCH in there, and it was SO GOOD. But it was also…I don't know, man. Like I said: processing.
Viola Davis, though. My God. She and Denzel are both magnificent.
Also, I was spoiled for the big plot twist by an interview, and I still wasn't prepared/ready because when it happened…it was like I didn't even know. SO GOOD.
---
Last week, I posted:
---
Last week, I read:

The Real McCoy: The Life of an African-American Inventor by Wendy Towle
My rating: 3 of 5 stars
I had never heard of Elijah McCoy before, so I'm glad I read this book. My only complaint about this book is that it doesn't emphasize enough that McCoy had access to education because his parents escaped slavery and were therefore able to send him to school–something that wouldn't have happened if he grew up in the States.
Read Harder 2016: Read a nonfiction book about science
Whoosh!: Lonnie Johnson's Super-Soaking Stream of Inventions by Chris Barton
My rating: 4 of 5 stars
Just imagine for a moment that you are an inventor and on your way to creating one of the greatest toys of all time, you took a detour at NASA and designed the power package that made the photography of Jupiter by a satellite possible. I mean, just imagine that the toy is so popular that your work at NASA is treated like a footnote (it's not really a footnote, but I mean, the NASA thing gets two pages and the Super Soaker gets over 10).
Great artwork and a nice look at the life of an engineer who always, always tinkered and invented and problem solved.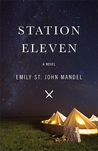 Station Eleven by Emily St. John Mandel
My rating: 4 of 5 stars
I found this book strange yet oddly compelling. In fact, during some parts, I couldn't stop reading it even though it felt like not much was happening.
I like that this was firmly rooted in reality (no zombies in this post-apocalyptic world). And also that it made me feel like I wouldn't be completely useless if the apocalypse came. Mostly useless, for sure, but not completely.
Read Harder 2016: Read a dystopian or post-apocalyptic novel
---
Currently, I'm reading:
I'm still making my way through The Art of Charlie Chan Hock Chye by Sonny Liew. The middle is pretty slow because the focus is less on Charlie and his friends and more on the politics.
So yes, I'm still reading one of my 2016 Read Harder books, but I'm more than halfway through and I started it before the year was out, so I'm calling it a win. Now I just need to finish…
Happy reading, everyone!