I only met with my students once last week, so this week is the full grind. A miracle occurred today, though! I didn't bring any work home. The key seems to be going back to my office to do work instead of leaving immediately after class. Imagine that.
The rest of last week is a blur, for sure. All that course prep makes my brain go to mush. Oh, and I forgot to post this e-card a friend sent me when I was complaining about course prep last week, so here it is now: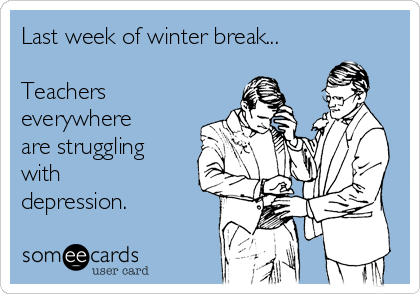 Now that I'm back, of course, I'm fine (and even in the zone). But, man, that prep week is whoa.
---
Last week, I posted:
---
Last week, I read:



The Art of Charlie Chan Hock Chye by Sonny Liew
My rating: 3 of 5 stars
I liked this quite a bit. I really enjoyed the different use of styles, and the little tiny Sonny Liew that showed up throughout. This is a really cool way to explore the history of a country by imagining the way an artist would depict it. However, I thought the middle dragged quite a bit because it moved away from Charlie's experiences and more to the history parts without connecting it to his experiences.
Read Harder 2016: Read a book that is by an author from Southeast Asia
---
I also abandoned one book (even though I am completely in love with the cover):
Perfect Liars by Kimberly Reid
I'm on pg. 150 and nothing is happening. NOTHING IS HAPPENING. Also: boys, boys, boys, boys, boys. I thought this was going to be more about Drea and her family, but it keeps turning into her doing dumb things because of a boy and I'm just not in the mood.
---
Currently, I'm reading:
Lucky me that Swing Time by Zadie Smith just happened to be on the shelf. Apparently, it has a gabillion holds, but my library has this "Sizzler" program that gives you an opportunity to check out hot books because there are a dozen or so that just hang out on the shelves (and can't be put on hold) waiting for people to find them.
I'm digging it so far. Oh, and this was fun to read given recent events [/sarcasm] (also TW for sexual assault/allusions to the current president-elect):
That summer the problem became acute because the true answer to "How was school today?" was "There is a mania in the playground for grabbing vaginas."
Of course, these are children and not grown men and the author doesn't let them off the hook, but still.
Happy reading, everyone!