Yesterday, I put this prompt up on the board for my creative writing students:
Write a scene in which a character standing in an open courtyard filled with people she (or he) knows finds out s/he's been stabbed in the back by his/her best friend.
After they asked, I told them the open courtyard could be any super public place and the backstabbing could be figurative or literal.
When time was up, I asked how many of them got my literary reference. Two hands went up, but then one student admitted that she only got it after the other student explained it.
So, only one student got the literary reference. One!
Then, I asked if any of them knew what the day was, and a student said, "The Ides of March."
And I said, "That's right! The Ides of March!"
And then I showed them the following memes/gifs: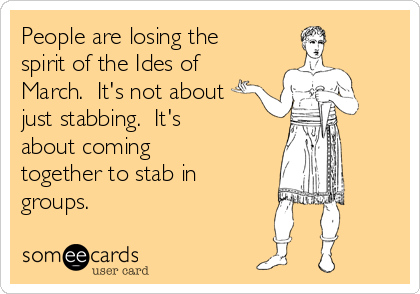 Best five minutes of class ever.
Save