1. April was all about the Blogging from A to Z Challenge around these here parts wherein I posted every day in April (except Sundays but on the last Sunday) about something that corresponds to a letter of the alphabet. My theme was gratitude, and you can find all of my posts here. I'll be doing a full reflection post, as requested by the challenge admins, on May 8.
2. April was also all about the end of the semester, which means I AM DONE. This is the first time I have *ever* not taught during the summer, ever. EVER. Even in grad school, I taught every summer. That's twelve years with no actual summer break. However, that all changes this year. SUMMER VACATION.
Current mood: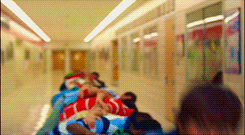 You can also watch the ENTIRE VID if you want to truly experience the full scope of my joy about summer vacation. Because, yes, it is that serious.
3. I finished three books this month:
The Inexplicable Logic of My Life by Benjamin Alire Sáenz (YA)
Princess Academy by Shannon Hale (middle grade, audiobook)
Book of a Thousand Days by Shannon Hale (YA, audiobook)
Full cast audio is really the best ever. A+, highly recommend for your audiobook needs. Also, Shannon Hale really is aces.
4. As for TV, I am behind on all of my shows, including Jeopardy!, and I think I am going to cancel my season pass for Speechless. I like it! I'm just always five episodes behind on it. Like, consistently.
No real TV highlights for April (see above, re: behind on everything) except that I have been watching my daughter watch Grey's Anatomy, and that is a lot of fun.
5. Next month on the blog should be a lot quieter. I haven't decided yet if I'll participate in Armchair Book Expo, but I do know I'll be doing a ton of reading. I have already finished two books this month, for example (one is a picture book to be fair). And I am pretty excited about starting An Extraordinary Union by Alyssa Cole.
That cover! 😍