I'm feeling a little out of it today (maybe I need some protein?) so I'm going to keep this week's update pretty short.
1. I hope everyone had a merry Christmas yesterday (or a happy Monday). As previously mentioned, my daughter and I are at my friend's house for the break, so it's nice spending time with both of them (and my friend's family). We opened presents and napped and cooked and ate and then played games.

2. I posted some things last week:
3. I also read some things: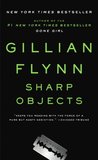 Sharp Objects by Gillian Flynn
My rating: 3 of 5 stars
Right, so this book is very well-written and compulsively readable, but it's also really super sad. I read this in anticipation of the upcoming TV show, and I'm not sure I'll be able to handle seeing it on screen.
This is a master class in character development, esp. how and when to reveal details about your characters. Also, and it must be said, Flynn rocks out at the unreliable narrator.
3.5 stars
Calling My Name by Liara Tamani
My rating: 4 of 5 stars
I really liked this (obviously, hence the rating). It's a coming of age told in episodic vignettes, and it really doesn't have an overarching plot throughline except that it follows Taja from middle to high school. Tamani really explores the conflict between loving God while also bumping up against the rampant sexism and misogyny of the church (#notallchurches). My heart really ached for Taja during specific points, especially as she got closer to Andre.
The only thing I wanted that the story didn't give me was a hint of (view spoiler)[Andre's cruelty before the break up (hide spoiler)]. The story is told in first-person present tense, so it's believable that Taja wouldn't see it, but I feel like that kind of behavior doesn't usually come out of nowhere. There's a hint of it after the blackout in the post office, but it still didn't quite match up to what came later.
If you're into quiet stories about real teens dealing with real things, check this one out.
A Raisin in the Sun by Lorraine Hansberry
My rating: 5 of 5 stars
Yeah, so this is pretty much perfect. Also, I have to say that even though I have seen the movie version, and I knew it was coming, I still had to put my Kindle down and take a break after Walter (view spoiler)[blew all the money (hide spoiler)]. It just makes me SO MAD every single time.
Also, it just infuriates me on so many levels that men somehow think their pain and their dreams are somehow more important than everyone else's. The sheer selfishness and entitlement. Sure, toxic masculinity but also just…UGH.
4. This week's A Month of Faves prompt is all about reading challenges. Specifically, whether or not we participated in any and, if so, how on track we are.
I only did one reading challenge this year: Must Read in 2017. I can tell you right now that I'm not going to read everything on my list, but I can also tell you that the book I'm currently reading is for that challenge.
I remembered the basic premise of Trade Me by Courtney Milan (the two main characters trade places; he's rich and she's not), but I somehow forgot there was fake dating involved, so when I got to that part I let out a very audible "Yessssssssss." I may have also pumped my fist.
Anyway, I'll have a full update for that on Thursday.
For next year, I'm more than likely going to do Book Riot's Read Harder Challenge (more than likely means I already joined a Facebook group and set up a Goodreads shelf), and I am also considering doing Roof Beam Reader's Reading the Bible as Literature Event.
I usually do a post about my goals for the coming year in January after I've had time to think of what I want for the year a little more. I'm still finishing up this year, after all.
5. My friend's husband, the kids, and I went to see Star Wars: The Last Jedi tonight (my friend doesn't do movies), and it was good if not a little long. I didn't see the last one, so I was confused on a few points, but I was still able to follow along pretty easily. We also had a fun discussion about the movie on the way home (mostly spoilery, of course), so that was nice.
6. Also, I would be remiss if I didn't let you all know about the library extension for Chrome, which my friend told me about and that has CHANGED MY LIFE. It is amazing fantastic, and I can see if all of the libraries I belong to have a book I want to read all at the same time. AND you can set it for the format you want the book in!
It is not always accurate (one of the libraries did have a book on Overdrive), but for the most part, I've found it to be pretty right on.
Have a great week, everyone!