Reading Stats
Number Of Books You Read: 66
Number of Audiobooks: 13
Number of Rereads: 1
Number Unfinished/Abandoned: 6
---
Best in Books
1. Best Book You Read In 2017?
A Raisin in the Sun by Lorraine Hansberry
My rating: 5 of 5 stars
Yeah, so this is pretty much perfect. Also, I have to say that even though I have seen the movie version, and I knew it was coming, I still had to put my Kindle down and take a break after Walter (view spoiler)[blew all the money (hide spoiler)]. It just makes me SO MAD every single time.
Also, it just infuriates me on so many levels that men somehow think their pain and their dreams are somehow more important than everyone else's. The sheer selfishness and entitlement. Sure, toxic masculinity but also just…UGH.
2. Book You Were Excited About & Thought You Were Going To Love More But Didn't?
When Dimple Met Rishi by Sandhya Menon
I'm on page 222. I may come back to this one, but it's a lot slower than I want/am in the mood for right now and is frustrating me moreso than delighting me. So. We'll see how I feel later.
Perfect cover is perfect, tho.
3. Most surprising (in a good way or bad way) book you read?  
I wasn't really surprised by any books I read this year.
4. Book You "Pushed" The Most People To Read (And They Did)?

I assigned The Complete Persepolis by Marjane Satrapi to my comp classes, so that wins.
5a. Best series you started in 2017?
The Fifth Season by N.K. Jemisin
My rating: 4 of 5 stars
Yeah, so this definitely deserves the hype. It took me a few chapters to get into it and then I was hooked. I will also say that as a black woman whose rage levels are at their peak right now, this really got to some of the stuff that is bothering me, so for that, I am truly grateful.
5b. Best Sequel of 2017?
The King of Attolia by Megan Whalen Turner
My rating: 4 of 5 stars
I was all set to write my review, and now I'm distracted because I see that they whitewashed the cover. UGH.
Anywheedle, tonight I discovered that I dig this series because I am a huge fan of the long con, and all three of the books in the series I have read have delivered on this point. "Why am I digging this book so much?" I kept asking myself. And now I know. I love seeing how it all comes together.
Also, Gen is A+++. As is Attolia. So there is also that.
5c. Best Series Ender of 2017?
Always and Forever, Lara Jean by Jenny Han
My rating: 3 of 5 stars
3.5 stars, really
Jenny Han's endings kill me. I cannot even deal.
Also, I love that Lara Jean knows that there are people like her out there even if they are over 50 because Pinterest exists. What a delightful beginning.
Oh, oh! My fave part of the cover (besides the fact that it is glorious) is the little pic of Jenny Han with the cover model in the corner. ADORABLE.
6. Favorite new author/audiobook narrator you discovered in 2017?
N.K. Jemisin and Robin Miles, respectively
7. Best book from a genre you don't typically read/was out of your comfort zone?
Hidden Figures: The Untold Story of the African American Women Who Helped Win the Space Race by Margot Lee Shetterly
My rating: 4 of 5 stars
I have too much to say about this book to fit in a pithy Goodreads review, but I'll try.
First of all, I listened to the audio version and Robin Miles is perfection.
Second, the biggest takeaway I have from this book is what I already knew: when you give black people access to education and opportunity, we are capable of more than anyone ever thought of. WHY WOULDN'T WE BE? Education + opportunity. That's all we need to be great, which is why it was (and still is a lot of the time, to be frank) denied to us.
You want to make America great? Invest in education and opportunities. That is all.
8. Most action-packed/thrilling/unputdownable book of the year?

I can't decide between N.K. Jemisin's The Fifth Kingdom and Agatha Christie's And Then There Were None, so let's call it a tie.
9. Book You Read In 2017 That You Are Most Likely To Re-Read Next Year?
None.
10. Favorite cover of a book you read in 2017?
Pictured: An Extraordinary Union by Alyssa Cole and When Dimple Met Rishi by Sandhya Menon
11. Most memorable character of 2017?

Walter from A Raisin in the Sun
12. Most beautifully written book read in 2017?
Calling My Name by Liara Tamani
My rating: 4 of 5 stars
I really liked this (obviously, hence the rating). It's a coming of age told in episodic vignettes, and it really doesn't have an overarching plot throughline except that it follows Taja from middle to high school. Tamani really explores the conflict between loving God while also bumping up against the rampant sexism and misogyny of the church (#notallchurches). My heart really ached for Taja during specific points, especially as she got closer to Andre.
The only thing I wanted that the story didn't give me was a hint of (view spoiler)[Andre's cruelty before the break up (hide spoiler)]. The story is told in first-person present tense, so it's believable that Taja wouldn't see it, but I feel like that kind of behavior doesn't usually come out of nowhere. There's a hint of it after the blackout in the post office, but it still didn't quite match up to what came later.
If you're into quiet stories about real teens dealing with real things, check this one out.
13. Most Thought-Provoking/ Life-Changing Book of 2017?
None.
14. Book you can't believe you waited UNTIL 2017 to finally read? 
A Raisin in the Sun, mostly because I have been telling myself to read it for years
15. Favorite Passage/Quote From A Book You Read In 2017?
From The Serpent King by Jeff Zentner:
I'm telling someone in a wheelchair to walk who's in the wheelchair because his dad and mom were in wheelchairs and he thinks he doesn't deserve to walk, or he's not walking so he won't hurt their feelings.
From The Parable of the Sower by Octavia Butler:
The weak can overcome the strong if the weak persist. Persisting isn't always safe, but it's often necessary.
From  A Raisin in the Sun by Lorraine Hansberry:
I LIVE THE ANSWER!
16.Shortest & Longest Book You Read In 2017?
Pictured:
Ballet Cat: The Totally Secret Secret
by Bob Shea (56 pgs) and
The Fifth Kingdom
by N.K. Jemisin (468 pgs)
17. Book That Shocked You The Most

No book really shocked me this year.
18. OTP OF THE YEAR (you will go down with this ship!)

(OTP = one true pairing if you aren't familiar)
I'm a pretty big fan of Gen and Attolia.
19. Favorite Non-Romantic Relationship Of The Year
Gem & Dixie from Sara Zarr's Gem & Dixie
20. Favorite Book You Read in 2017 From An Author You've Read Previously
My rating: 4 of 5 stars
I have decided that my favorite genre of YA is the one where the teenager(s) realizes she's in over her head and goes to a trusted adult for help and that adult is actually competent and compassionate and offers the teen a solution she couldn't see on her own.
This is book is pretty great. Sara Zarr is pretty great. Gem is pretty great. And the ending to this book is completely satisfying.
21. Best Book You Read In 2017 That You Read Based SOLELY On A Recommendation From Somebody Else/Peer Pressure:
The Hate U Give by Angie Thomas
My rating: 4 of 5 stars
Hey, so, I was very reluctant to read this book because the topic is pretty triggering, and I wasn't sure I could handle it. And while, yes, the book starts with Khalil's murder and the topic is serious, there's a lot of humor and heart to this book. It's not a problem novel (Google it), but Thomas offers real and nuanced characters who have real and nuanced reactions to real things.
As an actual black person on the internet who grew up hood adjacent (hood adjacent = not quite gangland, but close enough) in the '90s, I may have related to Starr's parents just a little too much. I mean, at one point, Starr's mom tells Starr not to act brand new and that is an actual thing I have said to my daughter before. Also, it makes total sense that Starr and her friends would know 2Pac because that's the music their parents listen to. (Also, I have had "Thug Love" stuck in my head for the past week because of this book. Fact: I only ever listen to that song through 2Pac's verse.)
I am getting away from the story here. I liked it. My favorite part of the novel was the focus on the complex family relationships and, of course, the emphasis on different ways of fighting and using your voice. And I also appreciate when books like this one point out that terrible things happen yet teenagers still have to deal with the mundane of going to school and homework on top of that. Life, man.
I will probably find the movie much more upsetting than I found the book, tbh.
22. Newest fictional crush from a book you read in 2017?
None.
23. Best 2017 debut you read?
The Hate U Give by Angie Thomas
24. Best Worldbuilding/Most Vivid Setting You Read This Year?
Princess Academy by Shannon Hale
My rating: 4 of 5 stars
3.5 stars, rounding up
Okay, this was delightful. I listened to the Full Cast Audio (LOVE Full Cast Audio) and the narrator was great, yes, but whoever did Tutor Olana's voice was perfection.
There are many great things about this book, and the heroine is exactly what I expect from a Shannon Hale main character: clever, intelligent, kind, and grounded. But my favorite thing about this book is that it's all about the importance of reading and education and how one and/or both are transformative.
25. Book That Put A Smile On Your Face/Was The Most FUN To Read?
Thug Notes: A Street-Smart Guide to Classic Literature by Sparky Sweets
My rating: 5 of 5 stars
I listened to this on audio which I highly recommend. This book and the commentary gave me LIFE. It was exactly the joy I needed in a stressful week.
26. Book That Made You Cry Or Nearly Cry in 2017?
The Serpent King by Jeff Zentner
My rating: 3 of 5 stars
3.5 stars, really.
I liked this quite a bit. The characters were well-drawn and interesting, and I love that there were no easy answers for any of them. Something about the last act kept me from really liking this, and I can't tell if it's because of the emotional distance (Dill's depression worsens) or just because I was in A Mood.
At any rate, it's a worthwhile read, and I would certainly recommend it without hesitation to people who enjoy friendship stories and stories about regular teens doing regular things.
27. Hidden Gem Of The Year?
Giant Days, Vol. 2 by John Allison
My rating: 4 of 5 stars
This series remains super cute. Best part was Daisy becoming totally obsessed with Friday Night Lights–excellent running sight gag.
28. Book That Crushed Your Soul?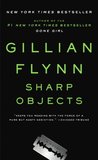 Sharp Objects by Gillian Flynn
My rating: 3 of 5 stars
Right, so this book is very well-written and compulsively readable, but it's also really super sad. I read this in anticipation of the upcoming TV show, and I'm not sure I'll be able to handle seeing it on screen.
This is a master class in character development, esp. how and when to reveal details about your characters. Also, and it must be said, Flynn rocks out at the unreliable narrator.
3.5 stars
29. Most Unique Book You Read In 2017?
The Art of Charlie Chan Hock Chye by Sonny Liew
My rating: 3 of 5 stars
I liked this quite a bit. I really enjoyed the different use of styles, and the little tiny Sonny Liew that showed up throughout. This is a really cool way to explore the history of a country by imagining the way an artist would depict it. However, I thought the middle dragged quite a bit because it moved away from Charlie's experiences and more to the history parts without connecting it to his experiences.
Read Harder 2016: Read a book that is by an author from Southeast Asia
30. Book That Made You The Most Mad (doesn't necessarily mean you didn't like it)?
A Bollywood Affair by Sonali Dev
My rating: 1 of 5 stars
First let me just say this: Priya Ayyar is an amazing narrator. A++ would listen again.
However, I am quitting this book (2 hours from the end! Of a 10-hour listen!) because the sex scene made me SO uncomfortable because it is so NOT romantic and sexy and it is SUPER problematic in so many ways, and it just erased all the goodwill I had towards the book until then.
Before I get into the spoilers, I just want to say that, in general, this was a pretty light listen though Samir (the male main character) has suffered some trauma that's brought up throughout the novel. (His grandfather was abusive, and it's something that comes up in the throughline of his character over and over again.) However, there are a lot of antics in the novel and colorful characters and situations, which helps the novel keep its light tone even when touching on that serious situation. I mean, I laughed out loud quite a few times at several things in the novel.
But, right, the sex. So everyone who knows me knows that I am generally not a fan of sex scenes because I find them kind of boring and, you know, I get it you're having sex. So when I say that I found the sex in this book problematic, please know that I am not talking about that. For that stuff, I roll my eyes and move on.
No, this sex scene was kind of violent (and not in a fun way) and also felt completely out of character. (highlight to read)[ ESPECIALLY FOR MILI.
All of the ways the sex was described were violent: Samir couldn't control himself, he ripped into her, he knew he was hurting her but couldn't stop himself, etc. THAT IS NOT SEXY. And he tells her to walk away because otherwise he won't be able to stop himself.
They also do it standing up against a tree, which is not that big a deal in and of itself except for the fact that (a) it's Mili's first time and (b) IT IS OUT OF CHARACTER FOR HER. Which I might have accepted if any single part of the sex scene was from Mili's point of view so that we knew what she was thinking during a single millisecond of it and why a woman who was SO PRUDISH and SO MODEST who had been waiting and waiting and waiting and saving herself for her husband would (a) have sex at all and (b) not care that it was OUT IN THE OPEN and AGAINST A TREE.
As a fully grown adult who knows something about how the world works, I can fill in some blanks about it (Mili found out her husband got married to someone else), but it still doesn't make any kind of character sense.
Oh, and THEN, after they have sex, Samir tells her it was horrible and she runs back to the house crying and we find out she went up to her room and sobbed, but she comes back downstairs to ask him why it was horrible so he admits it's because he (again) couldn't control himself around her and turned into an animal and hurt her. Also, it could and should have been better for her. And she says, "YOU MEAN IT GETS BETTER?" And I swear to you, if I had been holding a paper book, I probably would have thrown it against the wall.
Mind you, there is nothing in Mili's reaction before that that says she thought it was this amazing sexual experience, even though we had time to be in her head about it. There's nothing that says how she felt about it (except that she sobbed afterwards). Nothing about how she feels about anything except why Samir is upset. (end spoilers)]
THAT IS NOT ROMANTIC. THAT IS NOT SEXY. I AM INFURIATED.
Oh, and I also have a huge problem with Samir facing his trauma through sex. Like, literally, he has cured his demons by having sex around them and where his trauma happened. ARE YOU KIDDING ME WITH THIS? Nope. Nope nope nope nope nope.
Then, on top of all of that, Samir is a LIAR. And he is not just lying about dumb stuff like he's a big time director and doesn't want Mili to find out because it might change how she sees him. That kind of lying I would be fine with (in a general create conflict kind of way). NO. He is lying to her about MAJOR STUFF that will erode THE VERY FABRIC OF HER LIFE. And I have quit soap operas before because I couldn't stand that a character was being lied to. And he keeps saying he needs to tell her and he keeps NOT TELLING HER. And he knows, he knows, he knows, he knows how important all of this is to her.
So you couple being a huge lying liar with super problematic and unsexy sex, and I am 100% out.
Also, now that I am thinking about what I don't like about the book, there is also so much fetishizing of Samir's light skin and light eyes and honey hair. I HATE THAT, TOO. (Mili is pretty even though she's dark, don't you know.)
---
Bookish/Blogging Life
1. Best event that you participated in (author signings, festivals, virtual events, memes, etc.)?
Slice of Life and #MustReadin2017
2. Best moment of bookish/blogging life in 2017?
I met Terry McMillan. There is a picture, but she asked me not to post it to social media.
Also, I went to a screening of Gretchen McNeil's Ten: Murder Island and met so very many cool authors. It was awesome.
3. Most challenging thing about blogging or your reading life this year?
Well, I moved across the country, which made it a lot harder to meet my goal of 75 books read for the year (and you can see I didn't meet it).
4. Most Popular Post This Year On Your Blog (whether it be by comments or views)?
The two most popular are ones I used to show my students how to do their blog posts, so I'm not going to count those.
After those, it's a blog post from 2015: Top Ten Books for Readers Who Like Scandal and How to Get Away with Murder.
For blog posts written this year, Yeah, so last week got away from me…
5. Best bookish discovery (book related sites, book stores, etc.)?
Chrome's library extension for sure, which is a total game changer. Also, I have access to Hoopla now!