1. In case you missed it, I welcomed the new year by buying a car, establishing some goals, and just generally being awesome:
2. The non-working part of my vacation is officially over since I spent today doing some course prep/lesson planning. My goal for this semester is to bring back fun assignments so that grading isn't as much of a chore.
The problem, of course, isn't finding fun assignments, but fitting them all into the course schedule. My ambitions are so grand, but the semester is always too short for me to do everything I want to do.
Anyway, I had this thought last semester, but I'm going to follow through on it this semester: Since the classes are two hours, I want to spend the first hour on reading and the second hour on writing. I keep planning for classes that are 50-75 minutes per session instead of classes that are two full hours.
3. The other thing throwing my scheduling off is that A Wrinkle in Time comes out March 9, but the semester starts on Feb. 20. I wanted to have my students read the book and do their assignment before the movie comes out, but that obviously can't happen. Someone clearly didn't think this plan through/pay close enough attention to the calendar when picking the book.
4. Speaking of non-working vacations, this is the first winter vacation I can remember where I didn't spend the week between Christmas and New Year's sitting at a table doing course prep while everyone around me did fun vacation things. It was nice.
5. I was so busy doing my yearly wrap-ups that I forgot to do my monthly wrap-up for December.
I finished six books in December, and I really liked (4+ stars) almost all of them!
 Trade Me by Courtney Milan (adult, romance)
A Raisin in the Sun by Lorraine Hansberry (adult, play)
Calling My Name by Liara Tamani (YA)
Sharp Objects by Gillian Flynn (adult)
The Afterlife of Holly Chase by Cynthia Hand (YA)
Turtles All the Way Down by John Green
The only one I gave five stars is A Raisin in the Sun, but the rest (except for the Holly Chase one because it had just a little too much premise and too little character development for me) are also pretty great.
6. Oh, speaking of books, I went to book club again this Saturday, and it was awesome. If there's a Mocha Girls book club in your area, I highly recommend you try it out. (And if it's not in your area, maybe check out the online group.)
7. I read two books this week:
Snow Falling by Jane Gloriana Villanueva
My rating: 1 of 5 stars
I made it to pg. 152 (62%) before I had to tap out. I was going to force myself to finish but then I realized I could use that time to catch up on the current season of the show instead since that would be a better use of my time.
This book is terrible in large part because the plot* is EVEN MORE unbelievable than the plot of Jane the Virgin and lacks all of the charm of the series. I mean, sure, the only people reading it are fans of the series, but that doesn't mean character development shouldn't still be involved. Also, for some reason, there are little inserts from the show's narrator that make no sense and completely take away from the action. Either have that be the narrative voice or not, but don't tack on a new narrative voice at the end of a chapter/section that wasn't there before.
*Because there is no artificial insemination, the only way for Josephine (Jane) to get pregnant is to have sex with Rake (Rafael). So, in this version, Josephine cheats on Martin (Michael) with Rake (view spoiler)[after she sees Martin hugging another woman. This is after she told Martin they had to wait until they get married to have sex, and they've been dating for two years. (hide spoiler)] And I'm supposed to root for Martin to take her back??? What a dumb reason for cheating. I can't even with this book.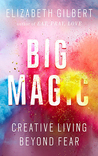 Big Magic: Creative Living Beyond Fear by Elizabeth Gilbert
My rating: 4 of 5 stars
3.5 stars, rounding up
This is a little repetitive in places like most of these books are and there are a few moments of preachiness, which keeps this from a full four stars for me. I do like the way it's set up, though. You can tell that Gilbert is basically going through all of the things people have told her over the years about why they can't create stuff, and she pretty thoroughly addresses all of them.
I highlighted a ton of stuff here, most of which I already knew/had heard but that I obviously needed to hear again. This is a pretty easy read and super conversational. I loved the use of anecdotes here.
8. And now I'm reading two books!
My friend gifted me the Audible version of Jenifer Lewis's The Mother of Black Hollywood. She reads it herself, and it is so amazing so far. She holds nothing back. I am enjoying listening to it so much.
I just started Renegades by Marissa Meyer yesterday. There are superheroes. Things are happening. That's all I got.
9. I am still two weeks behind on Jeopardy! and one week behind on Kevin (Probably) Saves the World. Also, The Mayor got cancelled, so I am sad but should also probably make my list of TV that made me happy in 2017 before more sadness (i.e., cancellations) comes my way.
Have a great week, everyone!