Today, I had a student come by the office to talk about his grade because he didn't like it.
Which, you know, that happens. He didn't think he deserved the grade he got, so I went through the paper with him and showed him how he didn't do what I asked for or misrepresented the text.
After we did that, he said that he read his peers' papers who scored higher than him and he didn't get why their grades were higher when they wrote shorter papers. When I pointed out that their papers were shorter but they did exactly what I asked for (including writing a short paper–the assignment was a one-paragraph summary), he pulled out that old bon mot: "Yeah, but I was trying to be creative." I told him that I didn't want him to be creative: I wanted him to do what I asked. His peers, I explained, completed the tasks I asked for and he did not. But theirs was formulaic, he said. Yes, I told him, because I told them to follow the formula, and they did it.
At the end of the conference, he said, "I still don't think I deserve the grade I got." To which I could only say, "Okay." Because at that point, what else is there to say?
---
Last week, I posted:
The Slice of Life challenge wrapped up last week, so I posted quite a bit. Here's the ICYMI list:
Even though I'm not doing the A to Z Challenge this year, I am planning to post every day in April.
---
Last week, I read:
So, I mostly started and didn't finish books this past week, but that's where we are.
The Shadow of the Wind by Carlos Ruiz Zafón
This book is beautifully written and narrated (audiobook), but I'm over an hour in and bored out of my mind.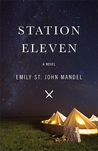 Station Eleven by Emily St. John Mandel
My rating: 4 of 5 stars
I found this book strange yet oddly compelling. In fact, during some parts, I couldn't stop reading it even though it felt like not much was happening.
I like that this was firmly rooted in reality (no zombies in this post-apocalyptic world). And also that it made me feel like I wouldn't be completely useless if the apocalypse came. Mostly useless, for sure, but not completely.
Read Harder 2016: Read a dystopian or post-apocalyptic novel
Reread 3/30/18 because I assigned it to my comp students:
Ha! I did think about my usefulness (or not) again as I was reading. I guess the book forces that kind of introspection.
This holds up well to a reread, though of course I read it slower this time–partially because I already knew what happened but mostly because it was homework. Anyway, I understand now why Mandel has Arthur as a central character. There's a line somewhere near the middle about how the internet connects us all when, really, with the Arthur character she's showing how we can be connected in other ways we don't always automatically realized. Also, you know, you never know how many lives you touch for good or bad during your lifetime. Plus, flu notwithstanding, his death is this huge moment in all of their lives for different reasons. I also extra appreciate that he didn't die of the flu.
Great characters. But, man, if you don't like non-linear narratives, you will probably really hate this book.
Aru Shah and the End of Time by Roshani Chokshi
4/2/18: I am maybe an hour and a half into the audiobook (on chapter 7), and I realized the narrator (Soneela Nankani) is driving me absolutely batty. I am enjoying the story, but she has this weird affectation when she reads the non-dialogue parts that just takes me right out of the story. So I'm going to put this aside until I can get a paper copy.
---
A few other observations from my day today:
1. I am listening to Hamilton in my car, and, you know, nothing really brings me as much joy as imagining George Washington, Thomas Jefferson, and James Madison spinning like tops in their graves because they're being portrayed by Black men.
2. I was watching Lean On Me last night (mostly with the sound off, which is fine because I know all the words), and everything Mr. Clark does is anathema to teaching today. All of that shaming! I mean, it was effective, for sure, but such a product of its time. Plus, all that YELLING.
Also, that moment when he tells Sams to jump off the building is WHEW. Here's a refresher:
Anyway, the most important part of rewatching the movie was that I discovered that Alba from Jane the Virgin is in it! She plays Mrs. Santos. So that was fun.
She's in the first ten seconds of this scene:
I was about to make a list of all my favorite moments, but I do need to grade, so. Also, really, it's just the whole movie, so there's also that.
Okay, wait, here's Mr. Darnell flipping over Mr. Clark's desk just because it makes me laugh.
Omg almost everything about it makes me laugh 😂😂😂. When he snatches those papers out of his hands, when he tells him he will kick his Black ass, when he flips the desk, AND the face Mr. Clark makes at Mr. Darnell after he does it 😂.
Okay, so I fell down a rabbit hole of clips. I need to wrap this thing up.
Have a great week, everyone!