`I was going to try to write a separate IMWAYR (It's Monday! What are you reading?) and Slice of Life Tuesday post, but then I realized I haven't worked on my NaNoWriMo project in a week and also the thought of opening the editor to post again wore me out, so I'm just back to my once a week post instead. It's probably better for everyone this way.
At any rate, for the past few days, I kept considering canceling my Thanksgiving Day plans so that I could sit on the couch and feel sorry for myself, so I should have known I was about to have/in the middle of a flare up. It has been pretty bad in that it's not more terrible than usual but in that I had some symptoms I hadn't had before, which left me feeling pretty awful last night–bad enough that I went to the doctor today. Turns out it's probably gastritis. So I am treating that (or will be once my prescription is filled), and, if it doesn't clear up within a week, I get to make an appointment with the gastroenterologist. 
While I was dealing with all of that today, I also got tickets to a taping of The Price Is Right in December, so, you know, that's one way to turn your day around.
To say I am excited is probably an understatement. I was in class when I got the notification that tickets were available and may have let out an audible squeal.
So even though my stomach was giving me some trouble, I had quite a bit to be grateful for today: a speedy medical visit and Price Is Right tickets.
You know what other good news I got this weekend? A Month of Faves is back this year!!! AHHHHHH. Actual best.
And I'm not just saying that because I love the graphics. (I mean, just look at those sparkly lights.)
(Also I am test driving the new WordPress editor, and I am not a fan. It's so unnecessarily complicated. Why would I need a separate block for a paragraph? Isn't it all the same post? Why do tech companies constantly do this? Sigh. I should go back to using the original editor in protest. I mean, I won't because I like the autosave feature, but seriously.)
Oh, the other thing that happened this weekend is that I finally faced the reality of just how much debt I'm in. That was sobering. And depressing. And may have also accounted for part of my pitiful mood. So anyway, I'm working on that now, but for real this time. Because reality is real.
Okay! I read some books! I am still in a bit of a reading slump, which means I did abandon one, but I also finished one. So it all balances out.
Loveability: Knowing How to Love and Be Loved by Robert Holden
Made it to page 50: Someone I trust found this book really impactful, so I tried this book on her recommendation. It's not working for me, mostly because I'm finding it to be full of platitudes with no real concrete opportunities for reflection. I also keep falling asleep while reading, which is never a good sign.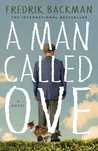 A Man Called Ove by Fredrik Backman
My rating: 4 of 5 stars
This is compulsively readable with great characters, but there is a LOT of suicidal ideation in this book.
That's it, I think. It feels like midnight, so I better do some course prep before I go to bed and ponder whether it feels like midnight because I'm so tired or because it gets dark so early. Combo platter? We'll see.
Have a great week, everyone!