Today's prompt is books that lived up to the hype! Or, you know, not.
Books that Lived Up to the Hype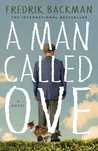 A Man Called Ove by Fredrik Backman
My rating: 4 of 5 stars
This is compulsively readable with great characters, but there is a LOT of suicidal ideation in this book.
Continue reading "#AMonthofFaves: 5 Popular Books Worth the Hype (and a few that weren't)" →