Today's prompt is books that lived up to the hype! Or, you know, not.
Books that Lived Up to the Hype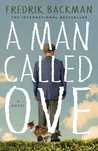 A Man Called Ove by Fredrik Backman
My rating: 4 of 5 stars
This is compulsively readable with great characters, but there is a LOT of suicidal ideation in this book.
The Poet X by Elizabeth Acevedo
My rating: 4 of 5 stars
Good characters, good conflict. My only complaints are that the ending is a little too tidy and that there's one scene between the mom, Xiomara, and the priest that I would have liked a little more of. Other than that, I dug it.
The Summer of Jordi Perez by Amy Spalding
My rating: 4 of 5 stars
This is super cute and fun. I loved the meta commentary on rom-coms, and I absolutely adored Abby's friendship with Jax. (This may be in large part because he's the burger guy and I want a relationship with someone who feeds me burgers.) The romance was really sweet, and I am 100% in love with Jordi's look for the art show the girls go to later in the book. The self-esteem discussions in the book were also A+++.
The ending felt a little rushed to me, but I was also rushing to read the end, so YMMV. At any rate, this is delightful and would make an excellent beach/pool read.
Long Way Down by Jason Reynolds
My rating: 4 of 5 stars
3.5 stars, rounding up for THAT ENDING
Yeah, so I really loved the end of the book. (Can you tell?) It really made the whole thing work for me.
This is a good look at toxic masculinity (soooo toxic) and violence begetting violence and thinking about when and how to break the cycle of violence and also seeing how toxic masculinity can make breaking that cycle seem impossible. Because there are rules, see?
The Prince and the Dressmaker by Jen Wang
My rating: 4 of 5 stars
First, let me just say that the dresses in this book are stunning. Just…so gorgeous. I love them so much.
I liked the story, though I was a little surprised at how the romance went because, though I expected it, I still didn't expect it. Some of this is me putting my hopes for a spin on a narrative on an author who didn't sign up for them, but that's where I am. I did love that Sebastian was so loved by the people around him, though, and I think that's important.
Overall, a fast and engaging read with really lovely artwork.
Read Harder 2018, Task 8: A comic written or illustrated by a person of color
…and Books that Didn't
Boy, Snow, Bird by Helen Oyeyemi
My rating: 2 of 5 stars
This book is wack. I don't think I've ever called anything wack before so that tells you just how wack it is. IT IS WACK.
I did like two things about it, though: (1) The reasons for Snow being sent away. That was a nice twist on the Snow White story. (2) The section about Bird and Snow's developing relationship.
But guess what? Both of those things were dropped for the absolute wackness of the resolution of Boy's story. I mean, sure it started going in an interesting direction because of the Bird/Snow relationship, but nope. Let's not spend time on that. Let's INSTEAD spend it on the completely left field Boy thing. Just…what?
Also, I never connected to any of the characters. I was starting to in the middle with Bird and Snow, but then see above re: dropped for the wackness.
The entire ending of Boy's story (including the actual ending of the book)? Wack.
And since this was a book club book, I'm going to go ahead and count this for the Book Riot challenge, task 24: An assigned book you hated.
WACK.
(Two stars instead of one because I finished the whole thing and genuinely wanted to see what happened until the wackness.)
The Shadow of the Wind by Carlos Ruiz Zafón
This book is beautifully written and narrated (audiobook), but I'm over an hour in and bored out of my mind.
Ready Player One by Ernest Cline
Tapping out at chapter 12 of the audiobook.
I heard a lot of good things so was excited to read this, but it's just one huge info dump and none of them are handled with any finesse. (Do I really need a biography of every single person involved with the creation of OASIS? No.) Also, I'm not really into reading about people playing video games since I'm not all that keen on watching them play video games.
I also heard great things about Wil Wheaton's narration, but really, he (the character and Wheaton both, honestly) just comes off like a smug asshole.
So this one is just not for me.