Hosted, as always, by Jamie @ The Perpetual Page Turner. I am also cross-posting this with the #AMonthofFaves blog event. Today's prompt is squee worthy reads, and I think I more than cover that in this post!
Reading Stats
Number Of Books You Read: 75
Number of Audiobooks: 10
Number of Rereads: 4
Number Unfinished/Abandoned: 12 (3 of these were audiobooks)
---
Best in Books
1. Best Book You Read In 2018?
The Mother of Black Hollywood: A Memoir by Jenifer Lewis
My rating: 5 of 5 stars
I listened to the audio version of this, which I highly recommend. It's like sitting in a room with her while she tells you her story. Plus, she sings! So that's fun.
I appreciated Lewis's honesty here, especially as she spoke of her sex addiction and bipolar disorder. I *loved* all the stuff about how she came to terms with her childhood and how she learned to forgive her mother. The story about the white man coming to the door and insulting her mother? WHEW.
Lewis makes liberal use of the f-word and isn't shy about detailing her sexual history (there's a chapter called "Dick Diva," for example). If these are things that may offend you, probably don't read this. But if you want a brutally honest account of working in show business while learning to accept and manage a mental illness, then definitely check it out.
Also, I totally want to hang out with Jenifer Lewis and Brandy. How do I make this happen?
Read Harder 2018, Task 12: A celebrity memoir
2. Book You Were Excited About & Thought You Were Going To Love More But Didn't?
A Rage in Harlem: A Grave Digger Coffin Ed Novel by Chester Himes
I made it to chapter 8 before tapping out.
See, the thing is I love Samuel L. Jackson's narration but the main character (named Jackson) is just so stupid that I cannot deal. Also, absolutely none of his choices (except wanting to trust and believe Imabelle) make a lick of sense to me. So yeah, I'm out. I just couldn't do it anymore.
3. Most surprising (in a good way or bad way) book you read?

Sisterhood Everlasting by Ann Brashares
My rating: 3 of 5 stars
So, this book starts with a tragedy and I was NOT PREPARED. As in, I almost quit reading the book because I was just not in the headspace to deal with a tragedy, and I am at the point in the semester/year/my life where I need stuff like that to be spelled out for me so I can decide if I even want to engage. But I checked in with some friends who read the book, and they told me to keep going, so I did.
I ultimately found the ending satisfying, but, man. This is a reminder to never ask authors to write new books about characters you love because almost always there will be tragedy. REMEMBER THIS, especially because in the end note Brashares said she could see writing another book about the sisterhood. Pretty sure I can't handle having my heart destroyed again, so no thanks on that one.
Other thoughts:
1. Not enough Carmen. She's my favorite character, but I felt she was unevenly represented in this book.
2. Lena continues to be the most boring. I found it particularly bothersome in this book because I related to her a lot, which made it 100 times worse.
3. Not enough dialogue. This book is super internally focused, which makes sense, but Brashares summarizes a lot of interactions the women have with other people, which made for a much less engaging read. I mean, sure, they have deep thoughts about things, but it would have been nice to break up all of that introspection with some showing instead of telling re: their relationships with other people.
It took me way longer to read this book than it should have, and that's in part because of the lack of dialogue. Also, the tragedy, but you knew that.
4. Book You "Pushed" The Most People To Read (And They Did)?

In the Not Quite Dark: Stories by Dana Johnson
My rating: 4 of 5 stars
This is a solid collection that I found pretty impulsively readable (as in, I would start a story and then just read the whole thing.) Almost all of them are about tough choices and shitty relationships, so, you know, life.
The weakest link for me was probably the title story, but, overall, I liked all of the stories–probably because they all have that thread of loneliness and melancholy throughout. However, the collection isn't without hope as the last story is super forward looking while celebrating the past.
5a. Best series you started in 2018?
My rating: 4 of 5 stars
3.5 stars, rounding up
Marissa Meyer makes me so mad. Mostly because a little ways from the end, I thought, "I ship it." Just…how dare she?
Anyway, this has a slow start (and could probably be two or three books, honestly), but I have to say that I appreciate the general premise of the book, and I love that both of the main characters are right in their way. I especially appreciate that Nova is so very wrong about so very much but also so very right about so very much. I just wish I could show her all the ways she's wrong, though, so she can get out of her own way. And, like I said, I ship it so I just want these two crazy kids to work it out.
Adrian is just a delight. That kid, I swear.
Anyway, the back matter of the book tells me this is a duology, so only one more book to go until the conclusion and it comes out later this year, so whew. Because I don't know if I have it in me to wait much longer than that to find out what's going to happen to Adrian and Nova (together and separately).
Read Harder 2018, Task 16: The first book in a new-to-you YA or middle grade series
5b. Best Sequel of 2018?
My rating: 5 of 5 stars
This book is cute. Jorge is cute. Jazmine is cute. Olivia is cute.
Okay, scratch that Jorge is the actual best. I love him. I loved this little book. Such a good look at what kids try to do to fit in, the "dating" is very age appropriate (video games and texting), and the bullying incidents were well handled.
Did I mention Jorge is the best. THE BEST.
My only complaint is that Akilah is only present in one panel with no words and no one addresses her by her very awesome name. It was a blink and you miss it cameo! I DISAPPROVE.
5c. Best Series Ender of 2018?
Alex + Ada, Vol. 3 by Jonathan Luna
My rating: 3 of 5 stars
Yeah, so I totally didn't expect Alex (view spoiler)[to go to jail for 25 years and miss the change in human/android relations (hide spoiler)]. I feel like this probably could have been another volume for that alone.
Ada is great and Alex's grandmother continues to be the best ever. I wish she were featured more in the story, honestly.
A good conclusion to the story (it's impulsively readable), but it just felt a little rushed.
6. Favorite new author you discovered in 2018?
I think Fredrik Backman (author of A Man Called Ove) is the only new author I read whose work I really enjoyed this year.
7. Best book from a genre you don't typically read/was out of your comfort zone?
Black No More by George S. Schuyler
My rating: 4 of 5 stars
Yeah, so this is the book that I think really predicts the current president and his administration (yes, even more so than 1984, A Handmaid's Tale, and Parable of the Sower). Schuyler imagines a post-racial America (what if black people turned white and therefore had access to all the things they were previously denied because of their skin color?) and then shows what really drives racism. (Hint: it's capitalism–and the desire for power.) He also, of course, shows what we already know: there is no actual difference between white and black people except that some of us think we're superior to others of us.
Schuyler eviscerates everyone who benefits from racism, including black intellectuals and, of course (and especially), politicians. The ending is funny and perfect, but the ending before the ending was heartbreaking and hard/uncomfortable to read.
Read Harder 2018, Task 9: A book of colonial or postcolonial literature
8. Most action-packed/thrilling/unputdownable book of the year?
The Murder of Roger Ackroyd by Agatha Christie
My rating: 4 of 5 stars
Ah, yes, this was very good. As this was an audiobook, I should point out that I really enjoyed the narration.
I figured out who the murderer was but had no idea of the how and, of course, how Poirot knew, so of course that's what made the novel delightful.
Also, Caroline is the real MVP. I would read a whole book about her.
Read Harder 2018, Task #3: A classic of genre fiction
9. Book You Read In 2018 That You Would Be MOST Likely To Re-Read Next Year?
None.
10. Favorite cover of a book you read in 2018?
Pictured: The Summer of Jordi Perez by Amy Spalding and The Mother of Black Hollywood by Jenifer Lewis
11. Most memorable character of 2018?
Jackson from A Rage in Harlem
12. Most beautifully written book read in 2018?
The Shadow of the Wind by Carlos Ruiz Zafón
This book is beautifully written and narrated (audiobook), but I'm over an hour in and bored out of my mind.
13. Most Thought-Provoking/ Life-Changing Book of 2018?
Meeting Your Half-Orange: An Utterly Upbeat Guide to Using Dating Optimism to Find Your Perfect Match by Amy Spencer
My rating: 3 of 5 stars
2 stars for reading experience, 4 stars for impact = 3 stars overall
Okay, so my baseline about dating is not optimism, which means I am both not the target audience for this book but should also absolutely be the target for this book. I say that because Spencer assumes a level of hopefulness in her readers that I didn't have going in. And that's most of what colored my reading experience/reaction to the book.
Reading experience (2 stars): I sometimes found the overly perky language super annoying–to the point where I had to remind myself several times that I was reading a BRIGHT ORANGE book about OPTIMISM. You know, just to get my head back right. There's also a weird bit about feminism in here that was slightly off-putting but also let me know who Spencer's real target audience is (white women of a certain social class). (The class thing is also evident by all her examples. "Make a change in your life" often translated to moving across the country or visiting foreign countries or some other ridiculously expensive thing.) Also, the bit about the "grubby glow" made me roll my eyes, but that's also because I probably need a book specifically about dating as an ugly (or unapproachable, if I'm being kind) woman.
However, I will note again that as a dating pessimist, reading/finishing this book was always likely going to be a chore for me because the level of buy-in I had was in the negative range, so people with more positive attitudes toward the topic probably won't resist as much, which means their mileage may, of course, vary.
Impact (4 stars): All of that said, I journaled a bunch while reading the book and then, after I finished, I wrote about five pages in my journal before going to sleep and then, in the morning, wrote several more. It also made me rethink some people and experiences in my life. So, yeah, it was annoying to read but this will probably go on my end of year list as a book that changed my life. 🤷🏾‍♀️
14. Book you can't believe you waited UNTIL 2018 to finally read?
Sisterhood Everlasting
15. Favorite Passage/Quote From A Book You Read In 2018?
From The Extremely Inconvenient Adventures of Bronte Mettlestone by Jaclyn Moriarty
Once you start chatting with a monster about the weather, you begin to forget that it's a monster.
From Their Eyes Were Watching God by Zora Neale Hurston
She didn't read books so she didn't know that she was the world and the heavens boiled down to a drop.
From Ms. Marvel, Vol. 6: Civil War II by G. Willow Wilson
Sometimes there is very little hope. But there is never no hope. Something, however small, remains.
From Betsy-Tacy by Maud Hart Lovelace
"Goodness!" said Betsy. "The world is big."
16.Shortest & Longest Book You Read In 2018?
Pictured: Herman and Rosie by Gus Gordon (32 pages) and Renegades by Marissa Meyer (563 pages)
17. Book That Shocked You The Most
Pictured: Sisterhood Everlasting by Ann Brashares
18. OTP OF THE YEAR (you will go down with this ship!)
Nova and Adrian from Renegades
Also, I don't ship middle schoolers, BUT IF I DID, then Jorge and Jazmin from Crush by Svetlana Chmakova
19. Favorite Non-Romantic Relationship Of The Year
Susan, Esther, and Daisy from Giant Days by John Allison
Adrian and Max from Renegades by Marissa Meyer
20. Favorite Book You Read in 2018 From An Author You've Read Previously
Long Way Down by Jason Reynolds
My rating: 4 of 5 stars
3.5 stars, rounding up for THAT ENDING
Yeah, so I really loved the end of the book. (Can you tell?) It really made the whole thing work for me.
This is a good look at toxic masculinity (soooo toxic) and violence begetting violence and thinking about when and how to break the cycle of violence and also seeing how toxic masculinity can make breaking that cycle seem impossible. Because there are rules, see?
21. Best Book You Read In 2018 That You Read Based SOLELY On A Recommendation From Somebody Else/Peer Pressure/Bookstagram, Etc.: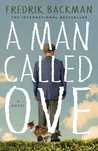 A Man Called Ove by Fredrik Backman
My rating: 4 of 5 stars
This is compulsively readable with great characters, but there is a LOT of suicidal ideation in this book.
22. Newest fictional crush from a book you read in 2018?
Sigh. Jorge from Crush. I don't have a crush on him but he is so excellent that I would count him as a book boyfriend. He is a middle schooler. It is weird.
23. Best 2018 debut you read?
It's a tie!

The Poet X by Elizabeth Acevedo
My rating: 4 of 5 stars
Good characters, good conflict. My only complaints are that the ending is a little too tidy and that there's one scene between the mom, Xiomara, and the priest that I would have liked a little more of. Other than that, I dug it.
Emergency Contact by Mary H.K. Choi
My rating: 4 of 5 stars
Messy, complicated characters with messy, complicated lives = yes, please. My biggest issue with the book is that I wasn't always clear on who was who in the text messages. But, man, this is really a book about FEELINGS, so. Messy and complicated.
Also, and it must be said, but I am so in love with that cover. Everything about it is perfect.
24. Best Worldbuilding/Most Vivid Setting You Read This Year?
My rating: 4 of 5 stars
As I find myself rooting both for and against Nova, screaming "I SHIP IT!" in both awe and anger, and just really wanting these two kids to just be happy, I have to admit that Marissa Meyer is very good at what she does.
This book is still too long, though.
25. Book That Put A Smile On Your Face/Was The Most FUN To Read?
The Summer of Jordi Perez by Amy Spalding
My rating: 4 of 5 stars
This is super cute and fun. I loved the meta commentary on rom-coms, and I absolutely adored Abby's friendship with Jax. (This may be in large part because he's the burger guy and I want a relationship with someone who feeds me burgers.) The romance was really sweet, and I am 100% in love with Jordi's look for the art show the girls go to later in the book. The self-esteem discussions in the book were also A+++.
The ending felt a little rushed to me, but I was also rushing to read the end, so YMMV. At any rate, this is delightful and would make an excellent beach/pool read.
26. Book That Made You Cry Or Nearly Cry in 2018?
None, but this one was probably the most tragic.
An American Marriage by Tayari Jones
My rating: 4 of 5 stars
This book gave me a lot of feelings, which is good because this is a book club book so we'll have a lot to talk about.
Okay, so Tayari Jones is the queen of writing stories about people who are the architects of their own unhappiness, and even though this story touches on–very specifically–the effects of mass incarceration on black families, it also still manages to be about people who are skillful architects of their own unhappiness.
That is to say I spent the last third (? fourth?) of the book INFURIATED by the choices the characters were making while also pitying them at the same time. Like, at one point, I wasn't even sure I was going to read the actual ending because I was so angry at these fictional characters. (This is also in large part because Jones exposes how it's the job of black women to put these broken black men back together–that it's expected and to not do so is a crime against the culture because of what society does to them/us. So yeah. This had me in my feelings.)
The actual ending didn't infuriate me, however. You know, just to be clear.
I also spent a large part of this book unsure how I felt about it, but I realized it's because the character of Celestial was hard for me to figure out and since I couldn't figure out how I felt about her that crept into the rest of the book. I found myself both wanting less and more of her voice at the same time because in some ways, she was just as inscrutable to me as she was to Roy.
(view spoiler)[Also, I really do wish that Jones had allowed Celestial to actually reflect on the fact that Roy was an actual shitty husband to her before he went to prison. That's what I mean about Celestial being inscrutable. I had no idea what she was thinking or what was important to her most of the time, which is weird in a first-person narrative. (hide spoiler)]
Also, I wish there had been more Aunt Sylvia. ACTUAL BEST.
Plus also, Tayari Jones and loyalty, y'all. I mean, Andre is up there with Raleigh from Silver Sparrow.
A note on the audiobook: So I started this on audio but wound up returning it to the library and getting the paper book instead. Mostly, it's because I *hated* the way the male narrator read the voice of Celestial and also because there's an entire section from Roy's POV that includes letters from Celestial, and I just couldn't believe the book producers wouldn't have the female narrator read those letters. Because the way the male narrator read her voice was annoying, see? Anyway, YMMV, but I just couldn't imagine listening to that for the rest of the book. (To be fair, that's the only section with the back and forth, so probably I could have made it through the rest of the book on audio.) (Also, to be clear, his Roy was very good–perfect, even.)
3.5 stars, rounding up
27. Hidden Gem Of The Year?
My rating: 4 of 5 stars
This book is so insanely cute. The artwork is stellar, and I love that there is so much reading. I covet AJ's room and his bookshelves (NERD). Also, can we just take a moment to appreciate Nia? She is the ACTUAL BEST. I love everything about her, including her dope beads.
Super fun read, and I enjoyed all the twists.
28. Book That Crushed Your Soul?
Sisterhood Everlasting
29. Most Unique Book You Read In 2018?
Photographic: The Life of Graciela Iturbide by Isabel Quintero
My rating: 4 of 5 stars
This is a fascinating look at a living artist, and I appreciated the use of Iturbide's actual photography alongside the illustrator's recreations of them. It was an interesting approach, I think, because of course there were differences but that also underscores the idea of different ways of seeing present in the book.
30. Book That Made You The Most Mad (doesn't necessarily mean you didn't like it)?
I will be forever pissed at Ann Brashares for Sisterhood Everlasting.
---
Bookish/Blogging Life
Favorite bookish related photo you took in 2018? / Best bookish event that you participated in? / Best moment of bookish/blogging life in 2018?
I went to the LA Times Festival of books. I met Rick Riordan. That is all.
Did you complete any reading challenges or goals that you had set for yourself at the beginning of this year?
Imma just leave this right here:
Pictured: Completed Goodreads reading challenge badge telling me that I'm really good at reading and probably a lot of other things, too.